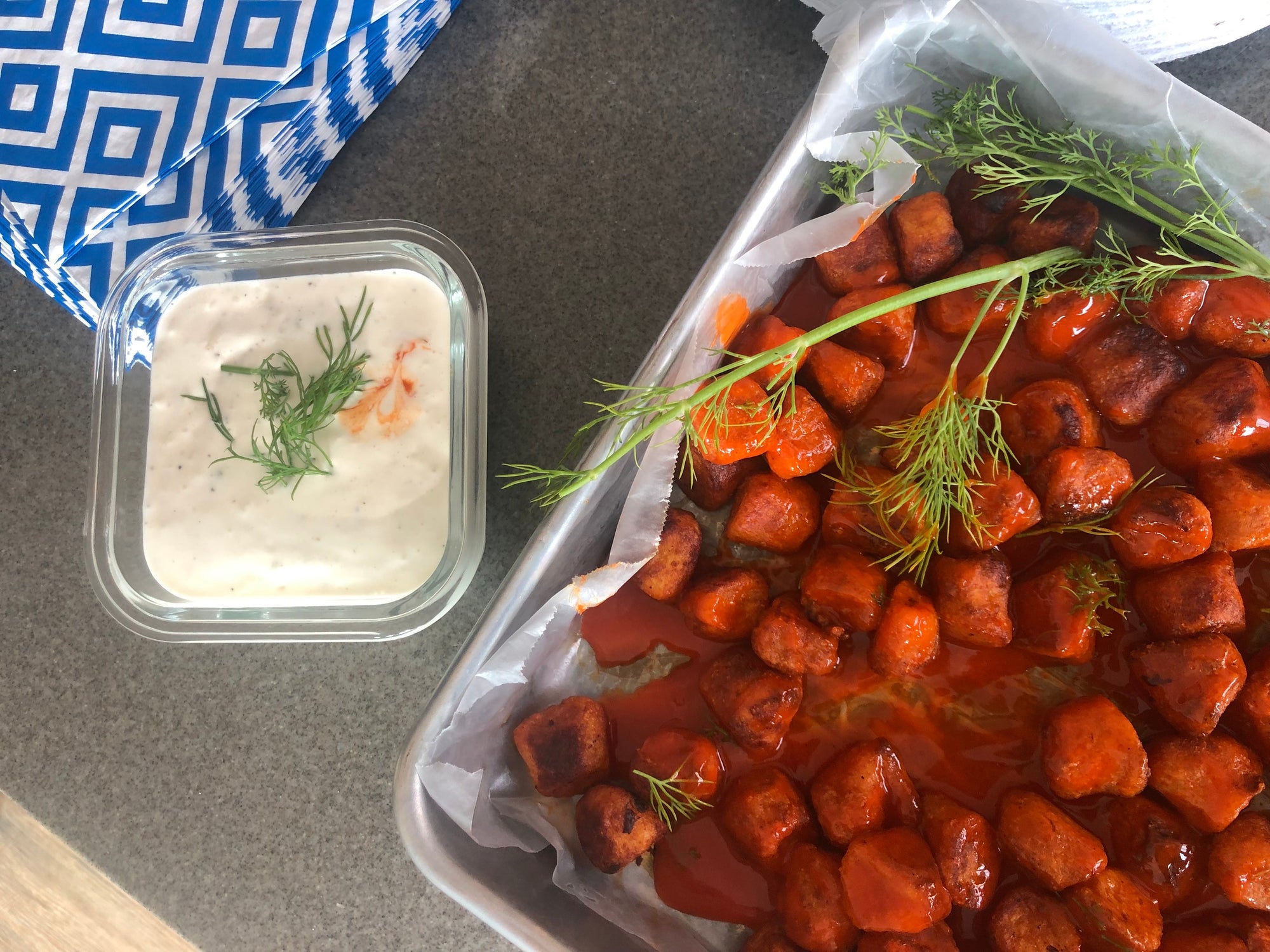 Buffalo Cauliflower Bites
If you're looking to make a spicy appetizer that is healthy, vegan and even the pickiest eater will enjoy, then these are the perfect party favor. Depending on how many people you will be serving, you can cut this recipe or add to it depending on the number of people who will be enjoying it. I used the Ninja Foodi to air crisp this batch, but if you are Ninja Foodi-less, you can make this using your oven (it will just take more time). I created this recipe after searching to find the perfect Buffalo Cauliflower Recipe. It dawned on me that many of these recipes involve cauliflower, olive oil, and a mixture of flour and spices, essentially what gnocchi was as a standalone. I've air crisped the the cauliflower Gnocchi in my Foodi several times with just olive oil and nutritional yeast and thought I would try coating the gnocchi and air crisping it as if it were the 'caulifower' in the Buffalo Cauliflower recipes I researched. I was not disappointed and it was so addicting. 
Buffalo Cauliflower Bites - Serves 6
3 bags Cauliflower Gnocchi
1/2 c Buffalo Wing Sauce (Franks Red Hot)
1/2 c Olive Oil
1/4 c Nutritional Yeast
2 tsp Garlic Powder
1 tsp Cumin
2 tsp Paprika
2 tsp Salt
Step 1: You will use the Air Crisp function on the Foodi (or you can bake 400 degrees). Preheat Foodi with air crisping basket in Foodi for 5 minutes - press Air Crisp, make sure temp is at 390 degrees and set time for 5 minutes. While it's heating, in a side bowl mix dry ingredients together. Pour Olive into a cup and set aside. Pour all the cauliflower gnocchi into a separate bowl. Pour olive oil over Gnocchi until fully coated. Then pour dry mixture over gnocchi and toss until it is fully coated. Make sure you break apart the gnocchi that is frozen together.
Step 2: You will repeat this process 3 times. Add 1/3 of coated cauliflower into air crisping basket in Foodi. Press Air Crisp, 390 degrees and set time for 10 minutes. After 10 minutes using tongs, gnocchi. It will start to resemble like tater tots. Close the lid and repeat for another 8 minutes. After 8 minutes, open and pour 2 tables spoons of wing sauce over gnocchi and toss with tongs. Close lid and cook for another 2 minutes. After 2 minutes, the gnocchi should be crispy and red, if you desire crispier add more time. Pour into a serving bowl and set aside. Repeat the process above until all of the Gnocchi has been cooked.
Step 3:  Once you have finished crisping all the Gnocchi and it is in a large bowl together, coat with the remaining buffalo sauce and toss. Put into serving bowl and serve with desired dipping sauce - blue cheese, ranch, etc. Garnish with Celery.
Enjoy!