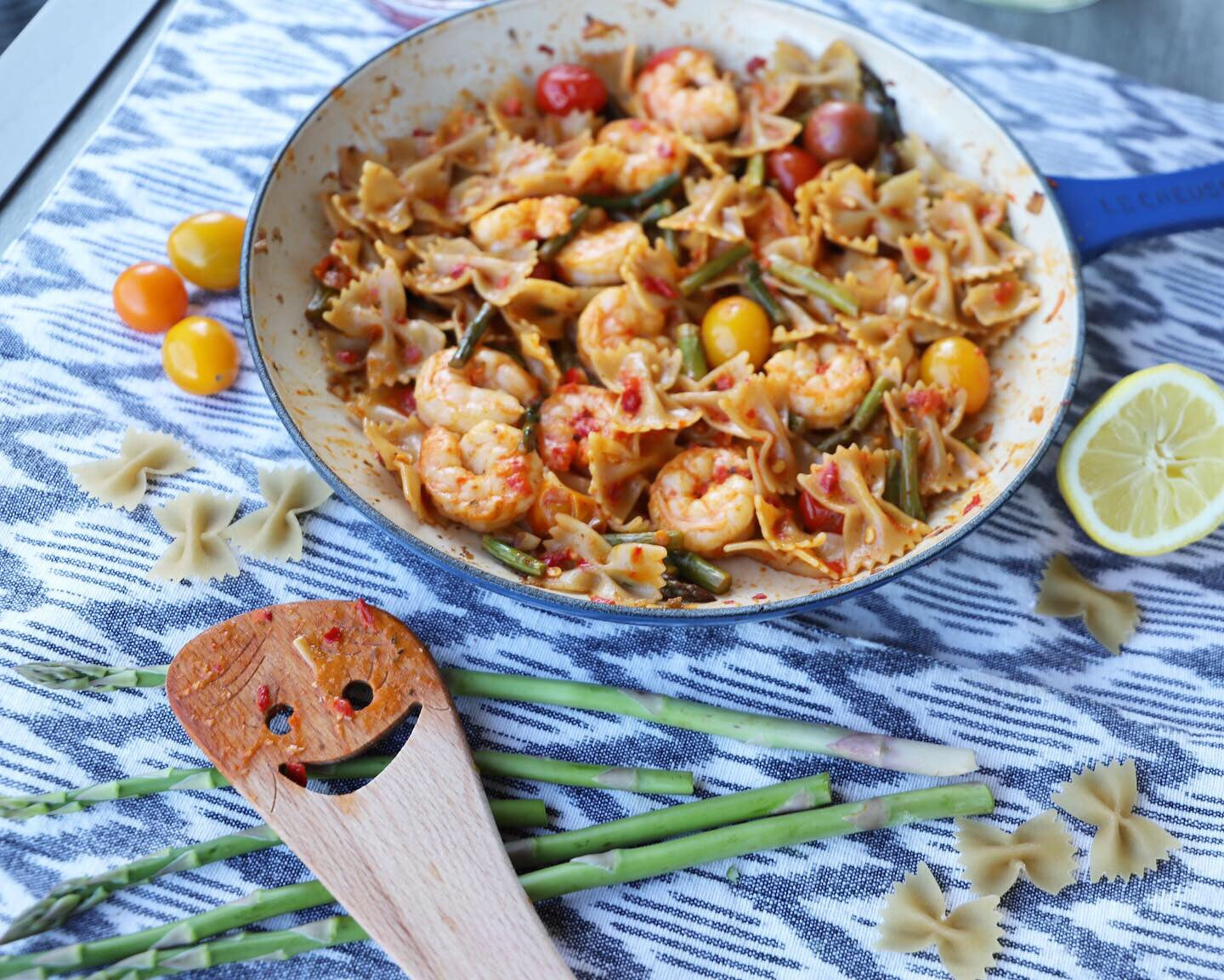 Calabrian Chile Pasta
Recipe by Anna Luetters
Servings 1 -2
Ingredients
1 cup dry farfalle (butterfly, bow tie) pasta

10-12 peeled, deveined shrimp

A dozen asparagus stalks, ends broken off and cut into inch long pieces

1 cup cherry tomatoes

1 lemon

1/2 cup wine

2 tablespoons butter

3 cloves garlic, diced small

2 teaspoons Calabrian chiles (I use Trader Joe's Italian Bomba Sauce) - Other grocery stores will have something that works just as well, look for Calabrian Chile paste or Calabrian Chiles in oil


Instructions
Bring a pot of water to boil (with olive oil and salt) and add pasta - let cook until al dente. Save a cup of pasta water before draining!! This will make the sauce better later.

Heat a tablespoon of oil in a skillet, add the shrimps, wait two minutes then add garlic, butter, squeeze of lemon juice, and white wine. Flip the shrimps and let cook another two minutes.
Remove the shrimps and cover to keep warm.
Add tomatoes into the skillet. Once the skins have burst, add in the asparagus as well and turn the heat down to low. If the contents are beginning to burn - add more butter and wine, add a splash of pasta water and turn the heat down!!
Add pasta and 1/2 cup pasta water into the skillet, add back the shrimps as well. Stir in two teaspoons of Calabrian chiles, let simmer for 5 minutes.
Split into bowls and enjoy!
3 comments
How many servings is this recipe?
Thanks

Rapha on

Hi Rhona -use a dry white wine like a Pinot Grigio, Sauvignon Blanc.

Pat on

What kind of wine can you use?

Rhona Curzio on